Top Touchscreen Kiosk Display Mistakes and How To Avoid Them in Your Museum
News Article
Top Touchscreen Kiosk Display Mistakes and How To Avoid Them in Your Museum
Defined as a small open-fronted hut or cubicle or a telephone booth, the kiosk has been adopted by technology for use in public spaces.
A modern kiosk is typically a touchscreen display on a stand, built to provide transactional and wayfinding information.
Museums and galleries have adopted the use of touchscreen kiosks to display information on their collections, as well as educational games for their younger audience.
Touchscreen Kiosk Displays for Museums and Galleries
When installing bespoke interactive touchscreen display for museums and galleries, it's important to be wary of the common mistakes and how to avoid them. The most important being ergonomics.
Considering the ergonomics of an interactive kiosk display design can be challenging for elaborate designs, however keeping your touchscreen displays simple is best.
At Black Cat Displays, we keep it simple, but effective. Using smart solutions and advanced techniques to develop ergonomic displays that resemble furniture. Keeping kiosk design simple has led to standing, seated, wall and table-mounted touchscreen displays, all of which resemble furniture in some form.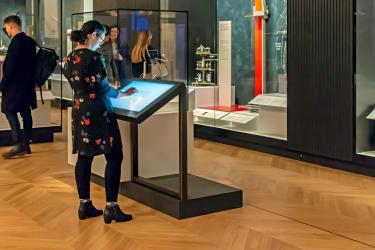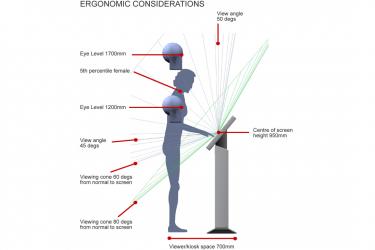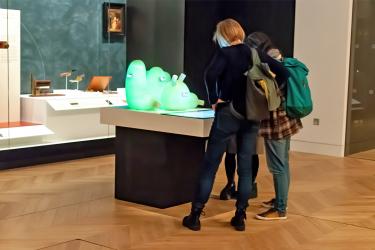 Black Cat Displays have wide knowledge in the bespoke design and build, and always take great care to consider the following guidelines:
Height for tall, short users and wheelchair access.
Lighting using anti-glare screens and LCDs that do not suffer from colour drift.
The angle of the screen for standing or seated use.
Fixing for floor, wall, footplate or wheels.
Edges are smooth - not sharp and potentially hazardous.
Software application preferably bespoke, not just a web page.
Safety glass for security.
Museum and Gallery Display Specialists in the UK
All of the above help build a successful kiosk display design which will withstand public use for years. Many of the kiosks Black Cat Displays have supplied have been installed for over twelve years.
If you're looking for a bespoke kiosk touchscreen display for your museum or gallery, or need display maintenance, servicing, repair or replacement before you open your doors to the public, get in touch.